Transformers - Dinobot
Transformers: Dinobots was a brief sub-set of the Transformers toy line. The line consisted of only six toys, sold in three different two-packs exclusive to Wal-Mart stores.

It is unknown exactly how the Transformers: Dinobots toy line fits in with the other Transformers lines. The previous Transformers: Robots in Disguise and Transformers: Armada lines contained many repaints of toys not featured on the animated series, but the Dinobots toys don't mention either line on their boxes. Also, the Dinobots toys debuted just before the Transformers: Universe series, which consisted almost entirely of repaints of previous toys. This makes a valid argument to consider Dinobots a precursor of the Universe line.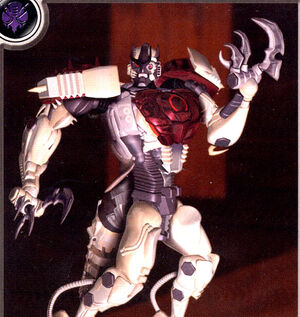 Transformers - Dinobot
Tweet