Final Fantasy Tonberry Wallpapers
A Tonberry, also localized as Pug, is quite small, usually no larger than two or three feet (sixty to ninety centimeters) tall. It has green skin and a round head with a small snout and round yellow eyes; it walks on two legs and resembles, to some small degree, a bipedal lizard. However, it always wears a hooded cloak, usually plain brown or grey in color, and its dolphin-like tail can be seen peeking out from beneath the hem. Furthermore, they are apparently quite intelligent, having a hierarchical society and a language of their own. A Tonberry always carries two things: a lantern in one hand to light its way through the caves, and a long, sharp chef's knife in the other.

While a Tonberry's foes are attacking it, it will walk slowly towards them. Once the Tonberry has come close enough to its enemy, it will then attack with its knife. Most of their incarnations possess the ability to deal extreme damage or instant death (usually by a short stab, accompanied with the "Doink" sound effect) to one or all members of the player's party. This, combined with their weak appearance, has earned them their notorious reputation. They sometimes also use abilities like "Karma" (also referred to as "Everyone's Grudge") that deal damage based on the number of enemies slain throughout the game, either by the party or the individual party member targeted. Tonberries are often found in caves or ruin structures. Generally Tonberries drop very small amounts of EXP or Gil, but in some games have been known to have large amounts of EXP or Gil and sometimes drop the most rare or powerful items in the game. Powerful versions of the Tonberry include Tonberry King, Mega Tonberry, Master Tonberry and Don Tonberry. Also, if an aeon is summoned against a Tonberry in Final Fantasy X, the Tonberry will use its "Voodoo" counter-attack to instantly kill the aeon.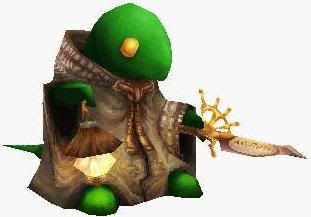 Final Fantasy Tonberry Wallpapers
Tweet